Tradition and Innovation in Basketry 11
The National Basketry Organization
 11th Biennial Conference
June 20 to 24th, 2023
Registration Has Closed. 
For questions please contact us at info@ nationalbasketry.org
Airport Shuttle Information Here
WORKSHOP TUITION AND FEES
NBO Member Campus

NBO Member

Commuter

Non-Member

Campus

Non-Member Commuter

Registration Fee

$65

$65

$150

$150

Room and Board

$590

$190*

$590

$190*

Workshop Tuition

$825

$825

$825

$825

TOTAL

$1480

$1080

$1565 



$1165.00
*Commuters receive 4 lunches and 4 dinners 
PLEASE READ THE FOLLOWING INSTRUCTIONS – Register for your workshop online. The initial fee represents your $65 registration fee and a $400 down payment on the remaining charges. You'll receive a confirmation from the registrar soon, confirming your workshop, giving you a balance due and all with all kinds of questions to confirm lodging, commuter, special meals, etc. Please be patient – it takes time to process so many registrations. 
All housing will be at Trimble Hall – please visit the page to learn more about the dormitory setup and group "pods" of rooms.
REGISTRATION – has closed.
For assistance please contact NBORegistrar @gmail.com
Participants may select only one workshop as they are each an intensive, 4-day based experience.
Cancellation:  The $65 registration fee is non-refundable.
Cancellation Date: February 28, 2023 ($400 deposit will be returned)
Balance due on registration: March 1, 2023


 
PLEASE NOTE – Workshop offerings may be subject to change.
CONFERENCE POLICIES
By registering for a workshop, students assume the risk of working with the tools, equipment, and materials. In addition, your registration will confirm you have read and agree to the conference refund and cancellation policy, and the health policy in effect at the time of the conference.

2023 Tradition and Innovation in Basketry Workshops
(Please note: image shown represent the work of the instructor and are not necessarily what will be created in the workshop.
Please read the "Tools and Information" list for more details.)
Asymmetrical Cedar and Cane – Polly Adams Sutton
Using prepared western red cedar bark for the structure, workshop participants will experiment with X twining techniques to control the shape of one or more small baskets. Each basket will be unique as the magnet wire and woven dyed binder cane are juxtaposed with the flexible cedar. Tortoise shell cane will also be used in the finish with folded borders. Previous twining skills helpful.
Estimated materials fee (payable to instructor) $130, includes cedar bark, wire and cane.
Download tools list for workshop here
More about Polly at Polly Adams Sutton
The Art of Knotting – Kate Anderson 
Learn the fundamentals of knotting a vessel or sculpture from different ways to begin the form to creating your vessel by adding and subtracting threads from both core and color threads. Building on this, you will learn how to work with different shapes, create pattern and apply textures. We will also spend time on lettering and on knotting simple surface shapes.  We will also go over some different options for completing your piece,  I'll share my own knotting evolution and we'll take a look at the range and work of a few other fiber artists using knotting techniques.
Estimated materials fee (payable to instructor) $20, includes a choice of fully prepared sculptural forms, instruction sheet, and a limited availability of beads, thread and filament.  
Download tools list for workshop here
More about Kate at Kate Anderson Art

Experimental Basketry With Metal:

A Common Sense Approach To Basketry Techniques With Copper, Aluminum, And Steel
David Paul Bacharach 
Class assignments will include daily demonstrations and hands-on instruction of basket techniques employing thin copper strips, aluminum strips from soda cans, and steel and copper wire. Each demonstration is designed to teach a specific technique. Each project will build on the knowledge obtained from the previous exercise. Materials for each project will be provided along with measurements and instructions for preparing the raw materials. The techniques covered will be plain weave, twill, kagome (an open form of triaxial weave), basic steel knotting, random weave, twining, and cold metal connections. Finish by embellishing your work by employing finishing techniques such as metal manipulation with hammers and steel forms as well as simple, safe patination processes. (No soldering or welding skill is required.) All levels welcome.
Estimated materials fee (payable to instructor) $75. Includes copper sheet metal, copper, steel, and brass wire, etc.
Download tools list for workshop here

More about David at Bacharach Metals

Shell Baskets – Anne Bowers
These unique baskets are the result of years of study by Anne in her process of taking ribbed basketry to a sculptural form.
Baskets are woven around a hardwood sapling which will be drilled for primary ribs. Students will weave entire basket, add secondary ribs and complete weaving using natural and dyed reed and seagrass. Students can expect to learn in class how to plan and drill for each of three different forms of this basket. Class requires hand strength and ability to whittle ribs.

Estimated materials fee (payable to instructor) $170, additional charge ($85), if a second shell is started.  Includes hardwood for central core of basket, dyed and natural reed for ribs and weavers, natural and dyed seagrass for weaving. Dyed palm inflorescence and waxed linen for embellishments.
Download tools list for workshop here
More about Anne at Anne Bowers

Squarework with the Works – Jesica Clark
Students can expect to learn the construction of a squarework basket with corner posts and scallomed stakes. We will go over
how to cut and tie scalloms, how to keep squarework square, how to make-to-measure, and how to weave and incorporate additions to basic baskets. Work begins with bark-on (brown) willow to weave a basket with corners to fit their needs. Baskets will start with a rectangular base woven on a screw block. Willow end staples and dowel posts will be added and stakes will be scallomed on. Waling and randing will be woven with special attention to corners and the square form. A border modified for squarework finishes the basic basket, but each student can choose from additions like partitions, a lid, handles, or a woven foot to customize for their purpose. Intermediate to advanced knowledge of willow weaving.
Estimated materials fee (payable to instructor) $50 to $150, depending on size and number of projects. Fee includes willow, wooden dowels, nails, and any leather and/or fasteners.Extra tools to borrow, screwblocks and leatherworking tools will be supplied by instructor.
Download tools list for workshop here
More about Jesica at Willow Vale Farm

Sculptural Basketry + – Ann Coddington
This four-day course will explore basketry as a non-functional sculptural process capable of expressing ideas and carrying
meaning beyond utilitarian aspects of traditional techniques. We will learn twining and wire basketry, and perhaps work on a piece that inventively combines these processes. Most importantly we will connect, interact, learn from each other, create and have fun. Students will evolve in their thinking about basketry as capable of operating within the realm of sculpture, as a means of expression. 
Estimated materials fee (payable to instructor) $75. Fees include spring twine, waxed linen, weave-rite tool, multi-page color handout, magic tape, 3 sizes of steel wire, invisible glove cream.
Download tools list for workshop here
More about Ann at Ann Coddington

Magniflora: Basketry Meets Botany and Wearable Art – Lissa-Jane de Sailles
Discover how to make one of Lissa-Jane's unique paper design projects where students will learn how to construct a beautiful twined stake and strand paper flower inspired by the camellia genus. Begin with a traditional base and then progress to adding in stakes and inserting the 'petals'. Your finished project may become a wall or table piece or you may choose to wear it. The emphasis will be on creating a beautiful large flower and some smaller pieces if time allows. Intermediate level, students should know how to set up a stake and strand basket and have a reasonable skill level of 2 and 3 strand weft twining.
Estimated material fee (payable to instructor) $ 90, includes Chinese, Japanese, and Scandinavian paper string in varying widths, clasps for brooches, and seed beads.
Download tools list for workshop here

More about Lissa-Jane at Lissa-Jane de Sailles

Transordinary Vessels- Emily Dvorin
Explore, experience and experiment, get creative, technical and problem-solve, learn from, support and critique each other. This class is an opportunity to make an innovative, sculptural basket using coiled basketry techniques with layering and assemblage. Students can expect to learn elements of form, design and construction with special attention to workmanship details and seamless transitions between disparate materials.
Estimated material fee (payable to instructor) $ 75, includes dyed shoelaces, electrical wire, telephone wire, painted reed, corrugated cardboard, cording, cable ties, waxed linen thread, upholstery needles
Download tools list for workshop here
More about Emily at Emily Dvorin

Japanese Embellishment – Flo Hoppe
Students will explore various techniques of Japanese embellishments and rim treatments. Several medium- size baskets will be woven to have surfaces to embellish.  The embellishments are worked around alternating bands of 3-rod wale and randing to create multiple layers of color and texture.  Rim treatments range from simple to very elaborate.
Estimated materials fee (payable to instructor) $42,  includes round reed and Japanese cane in two different colors.
Download tools list for workshop here
More about Flo at Flo Hoppe Basketmaker

Black Ash Splint: Traditional Cathead to Contemporary Forms – JoAnn Kelly Catsos
Weaving with precisely prepared black ash splint over a 4" diameter wooden mold, students will experience techniques used in traditional splint basketry- laying up a base, forming a cathead bottom, chase weaving, lashing a hardwood rim. Then explore pushing the boundaries of the word "basket" by using splint, stain and waxed linen to create forms on and off molds, and investigate the mathematics of woven twill patterns. Students can expect to complete at least 2 projects and learn basic plaiting techniques to weave over a wooden form with black ash splint, mathematics to design their own basket and twill pattern, as well as alternate methods of rimming/finishing a basket. Students will make one traditional basket and at least one contemporary form. All levels welcome; due to the small size of this project (woven on a 4" diameter mold), good eyesight and patience is needed.
Estimated materials fee (payable to instructor) $155, includes black ash splint, hardwood rims, written instructions, reference materials, stain, waxed linen, sandpaper, small cable ties, use of mold/mold stand and special tools – for 2 projects.
Download tools list for workshop here
More about JoAnne at JoAnn Kelly Catsos

Puget Sound Excursion: Inspiring Baskets and Fine Craft – Katherine Lewis, Guide
Spend a few days exploring the cultural richness of the Northwest as we travel around the region to visit museums, basketmakers and craft artists. Local Washington basketmaker Katherine Lewis will be your guide.  You will spend time visiting amazing places including the Burke Museum in Seattle and the Contemporary Native Arts Exhibition at Washington History Museum. In addition to being immersed in the history and culture of Puget Sound, you'll be inspired by your visits to Kathy Ross' sculpture studio, meeting master basket weaver Ed Carriere at the Suquamish Museum and much more.
The tour will include some standing and walking at all stops, stairs to get on and off the bus and/or at one or more studios. Purchasing opportunities will be available at many locations. There is an additional $95 transportation fee, payable to NBO. 
Preliminary Tour Details Available Here
More about your guide, Katherine Lewis, at Dunbar Gardens

Twine + Texture – Sarita Westrup
In this experimental basketry workshop, students will learn methods for building nonfunctional forms from reed. Techniques will include twining, starting various basket bottoms, and twining backward to create curves. We'll modify the surfaces of our sculptural baskets using thin-set mortar, powdered graphite, spray paint, and watered-down acrylic paint. Bring your curious and experimental self and leave with a foundation of sculptural basketry skills. All levels.
Estimated materials fee (payable to instructor) $60, includes one pound reed, grey simple set mortar, plastic to cover tables while painting, black spray, black acrylic paint, paint, graphite powder, disposable masks, 2-3 spray bottles for watering down acrylic.
Download tools list for workshop here.
More about Sarita at Sarita Westrup

Pine Needle Basketry – Carolyn Zeitler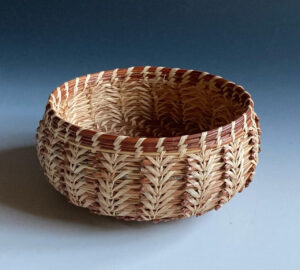 Students will learn how to create a pine needle basket using the long-needled Coulter Pines from the Santa Lucia Mountains of Big Sur. Learn how to work with pine needles, raffia, and sinew to create 3 dimensional forms. The process includes soaking the needles, learning the techniques to achieve symmetry in design and creating a form using the heads of the pine needles as a decorative element of their design. Learn how to coil using just sinew and raffia and a darning needle to create a unique design that will incorporate four basic stitches. From this first piece, students will have the skills and knowledge to continue exploring this art form. All levels welcome.
Estimated materials fee (payable to instructor) $25, includes Coulter Pine Needles, 5 size 18 darning needles, artificial sinew, raffia and instructional materials.
Download tools list for workshop here
More about Carolyn at Carolyn Zeitler Pine Needle Basketry